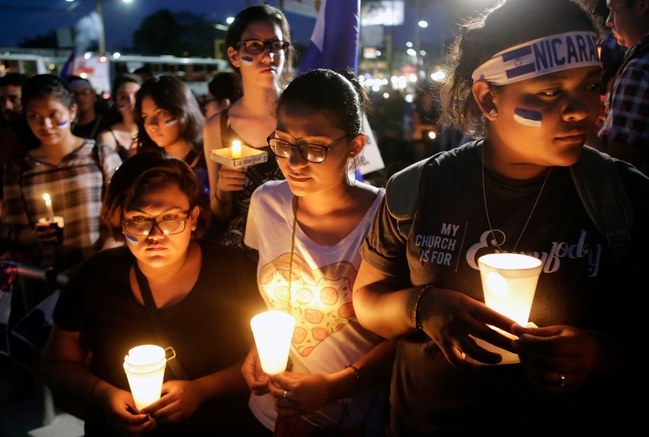 [ITA] – [ENG]
La situazione in Nicaragua si sta facendo calda.
La violenza è aumentata improvvisamente e a livello internazionale nessuno ne sta parlando.
Tutto e' successo d'improvviso, strategicamente, come l'esperimento in Honduras 1 anno fa.
Tutto è cominciato con del fuoco(1) un incendio e un tweet (2)
1.
Il fuoco comincia nella forsta a nord di Managua, la capitale del Nicaragua. Il governo semplicemente ignora il problema e la vastissima zona verde si incendia di forma disastrosa creando non pochi problemi alle provincie vicine e ai 'campesinos' che si organizzano in autonomia e fermano il fuoco, e con la stessa rabbia per la mancanza di responsabilita' del governo promuovono una protesta nel centro di Managua.
2.
Nello stesso periodo, Aprile 2018, un nuovo account twitter viene creato @SOSINSS, con un primo popolarissimo con un primo popolarissimo  tweet contro il governo e l'isituto di INSS
L'account twitter comincia protestando contro la riforma del INSS in Nicaragua (come l'INPS in Italia), poiche' il governo in Aprile ha approvato una legge per tagliare i fondi di assicurazione sanitaria e pensioni. Questa decisione ha scatenato proteste in tutto lo stato del Nicaragua, la violenza e' esplosa velocemente dentro le stesse manifestazioni e qualcuno ha sicuramente tratto vantaggio da tutto questo, alcuni dati a caso:
1. l'account twitter e' anonimo
2. il numero di follower e' aumentato rapidamente arrivando quasi a ~2000 utenti
3. I tweet accusano direttamente il governo facendo leva su emozioni base traendo casi di vita reale che hanno portato alla morte persone non protette dal 'seguro social'
ok, quindi cos'e' successo dopo? Dopo un mese di proteste e violenza il presidente Ortega cancella la legge, ma le proteste continuano. Dopo alcune settimane la violenza si placa e le manifestazioni sembrano calmarsi, ma ancora non e' chiaro chi ci sia dietro queste esplosioni di violenza e se alcuni gruppi si stiano organizzando contro il governo Nica.
Daniel Ortega e' malato (cancro) e non ha un diretto interesse a mantenere il suo potere, quindi chi e' che sta cercando di trarre vantaggio da tutto questo ?
Dal mio punto di vista e' abbastanza chiaro che gli USA abbiano qualche interesse a riprendersi il Nicaragua, per motivi commerciali, economici e sicuramente anche strategici visto che il Nicaragua sta diventando importante come Panama nel lasciar passare *un sacco* di risorse. Ma il Nicaragua non sta cooperando, anzi, chiude le frontiere a richiede un visto a chiunque voglia attraversare lo stato.
In Honduras e' successo lo stesso. Un anno fa un disastro naturale ha permesso agli USA di infiltrarsi e aiutare strategicamente il povero stato del Honduras, crando cosi una protezione e una dipendenza economica, ed ora che gli USA decidono di tagliare i fondi, cosa potra' mai succedere ?
[ENG]
Situation in Nicaragua is getting hot.
Violence escalate very quickly and internationally nobody is talking about.
Happen all suddenly, strategically, like the Honduras experiment 1 year ago*
All started with the fire, A fire(1) and a tweet(2)
1.
The fire starts in the forest North of Managua, the capital. Government just ignored the green burning zone and the problem exploded affecting the province and the locals 'capesinos' who organize themselves in autonomy to stop the fire and fight back the lack of responsibility promoting a protest in the center of Managua
2.
During the same period of time, April 2018, a tweet account (@SOSINSS) is created with this first tweet
The tweet account was against the reform of INSS is the social insurance in Nicaragua, the government in April approved the law to cut the public social insurance and cut off the pension. Protest in all the country started, violence escalated quickly and someone use this as an advantage from it.
1. the twitter account is anonymous
2. the number of followers increased quickly to ~2000 users
3. tweet directly accused the government bringing real-life-case of people died because of Social Insurance injustice
So, what happen next? After 1 Month of increasing protest and violence Ortega revoked the Social Insurance law, but the protest continues. Now violence seems is stopping, just peaceful protests, but it's still not clear who is behind that explosion of violence and if the some groups are organizing against the Nicaragua government. Ortega is ill (cancer) and have no interest to bring the power with him, so who is taking advantage from this ?
From my point of view, is quite clear there is some interest from USA to get Nicaragua back to their side, for commercial, economical and strategic reason Nicaragua is getting important like Panama to let pass or not *a lot* of resources. But Nicaragua is not cooperating instead is closing the border and requiring a Visa to anyone who want to cross the country.
In Honduras happened the same, one year ago there was an natural disaster USA sent some helps and strategically took to protection Honduras creating a direct dependency which now let Honduras in huge need now that USA recently cut off the economical helps
what do you think may happen ?